First impressions are everything. As much as you think all you and your guests are going to remember is the ceremony, the dress, and the party, you're wrong. Each little element goes a long way in making your wedding unique to you. And that includes your entrance.
The way you arrive at your wedding is a crucial part of your big day. It helps set the mood and hints towards the theme and atmosphere for the day ahead. So whether you want something grand and expensive, or minimalistic and budget, it's important you spend a moment to think and plan about your wedding transportation.
Here, we've handpicked six of our favourite ways to arrive at a wedding; in no particular order.
1. Fairytale Greetings
In the wise words of the love-God himself, Frank Sinatra, 'love and marriage, love and marriage, go together like a horse and carriage.'
A horse drawn carriage is synonymous with a beautiful wedding day. It screams fairy-tale romance, royalty, and traditional charm. As well as giving you an extremely classic look for your big day, it's also one of the most relaxing and intimate transport options available.
Look for horse drawn carriages that offer all types of weather protection. While Cinderella managed to dodge the rain, you might not be so lucky!
2. Vintage Arrivals
If you're wedding theme is retro, then you need an arrival plan that's going to match up. It's no good arriving in a sports car if your guests are drinking out of vintage teacups and dancing around homemade bunting.
With a wicker basket to hold your bouquet, place to attached an adorable 'bride to be' plaque, and the chance to work off some of that adrenalin before the ceremony, a vintage bike is the perfect addition to a retro wedding.
The great thing about bikes is that you'll get a lot of use out of them. Ride up to the venue, ride into the sunset with your partner, and use them as props for gorgeous wedding photos throughout the day.
Kyle Hassall
3. Rustic Reveals
If you're after a rustic vibe on your big day, with exposed beams, large open windows, magical gardens and idyllic courtyards, then why not top it off with a rustic, old bus ride?
As well as allowing you to share even more precious moments with your loved ones, as you pile onto the bus and relax together en-route to the venue, you can make it a ride to remember with plenty of space for drinks, photos and entertainment.
You could even look into keeping the bus for the day and having it as an extra space where guests can enjoy their evening.
4. Country Chic
Venues with rolling hills, enchanting views, and stunning, countryside surroundings are great for couples after a bit of country chic. And what says 'we're in the countryside' more than a farmer's right hand man?
Whilst it may not be the classiest way to arrive on your big day, a tractor certainly is playful – and we're sure your guests won't forget that sight!
If your heart it set on a tractor ride to the aisle, get in touch with your wedding venue and see if they can help you find the perfect farm vehicle.
Lucy G, Meredith Photography (Top Right)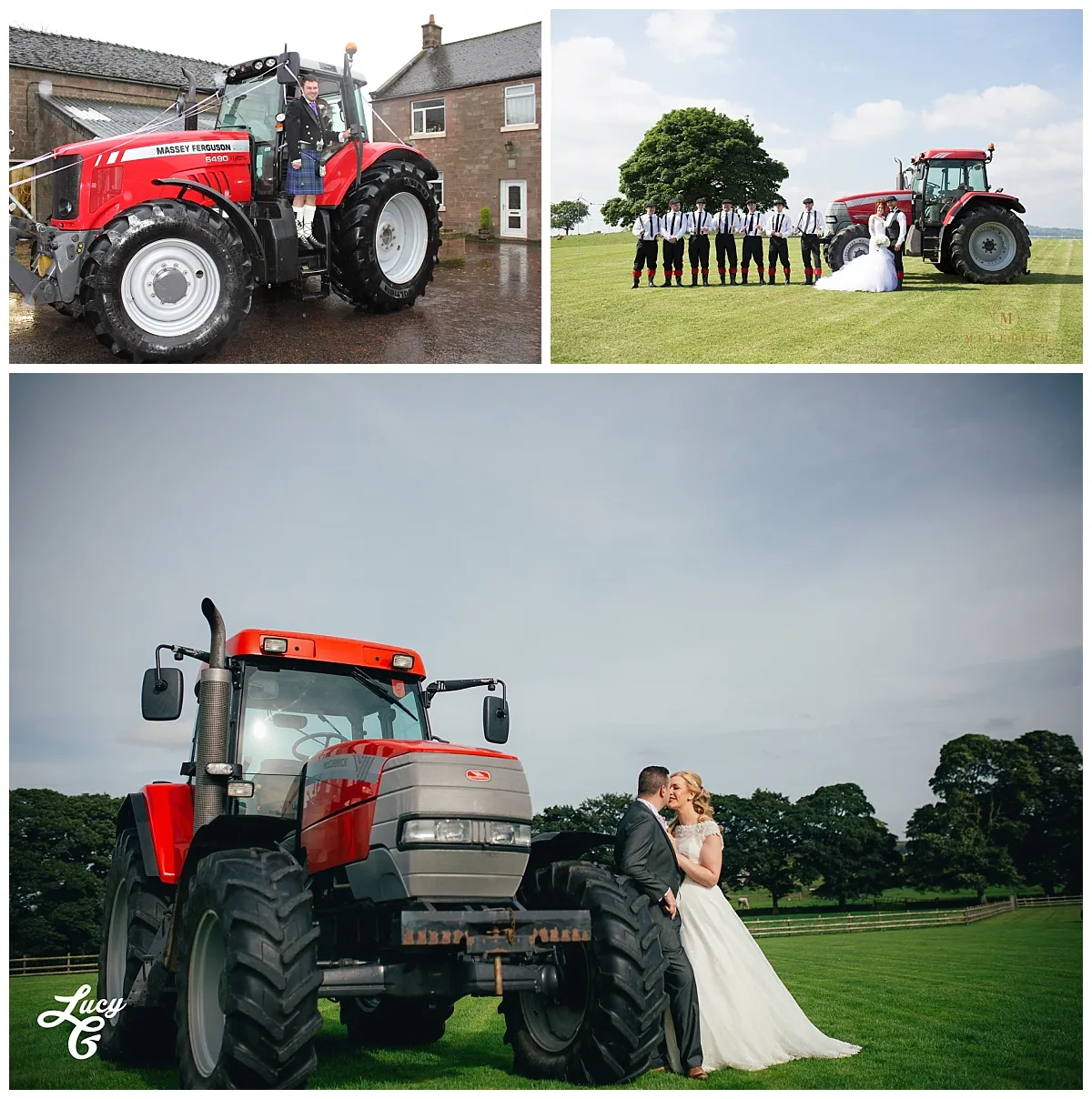 5. The Big Landing
Helicopters ooze all things cosmopolitan. They're theatrical, dramatic, and will certainly help you make an unforgettable entrance.
We love the idea of the groom and groomsmen arriving in a helicopter, running towards the venue like a scene straight out of Hollywood. It's romantic, it's sexy and it's simply one of the coolest ways to arrive.
A helicopter landing can restrict your choice in venues as you have to ensure everything is set up. Look for places like Heaton House Farm that can cater to this request with a helipad landing.
6. Something Personal
Sometimes the unforgettable is also the simple. You don't have to go big and extravagant for your wedding entrance if you don't want to.
One of the best ways to arrive at your wedding might be with that car that holds a special place in your hearts. The one you were driving on your first date perhaps? The one that you shared that epic road trip with? The one that's a family heirloom? Or maybe you could just hire the car that you've both always dreamed of riding in.
There are lots of options, and the great thing about a traditional car is that you don't need to worry about specific arrival arrangements at your venue, or be concerned about what you're wearing (unlike a tractor or helicopter!)
And if you choose a venue like Heaton House Farm – with a long sweeping road that leads you through the stunning countryside – you'll be able to enjoy every single moment in your favourite car, to and from your wedding.
Bridgwood Photography
THINK OUTSIDE THE BOX
We know how much thought and effort people put into their big day. From the perfect wedding venue, right down to thoughtful thank you cards, every flourish matters.
Approach your wedding transportation like any other element of your wedding day and ensure you give your guests something to remember.
And remember, whatever type of arrival you'd like, we can most likely accommodate it at Heaton House Farn. Come along and see what your entrance could look like!