Spending a few days relaxing in the Lake District, Ali and Ian were enjoying their time together whilst trying to keep up with the World Cup games.
In between the two big games that were on, Ian decided to pop the question…
A lovely surprise for Ali, but as they had been together for 8 years she had been hoping he would ask her to marry him at some point!
Feeling refreshed from their break, Ali and Ian arrived back home and got straight into their wedding planning – they only had 9 months to get everything sorted so they had to get a move on!
First things first, they searched for the perfect venue for their special day.
Arriving for a viewing at Heaton House Farm, Ali and Ian knew that it had everything they wanted. They loved the layout of the venue and could imagine how their day would flow from one area to the next. And Ali especially loved the stunning Pamper Room!
But, they decided to explore other options and went to view a second venue.
After looking around it was clear that nothing would come close to the first venue they viewed, and Ian asked Ali: "Why are we bothering when Heaton House Farm has everything we want?"
So that was that! They got in contact with Heaton House Farm and booked a date for their big day!
"We picked Heaton House Farm because of how relaxed it felt when we looked around. I loved that it had separate rooms for the meal and the evening reception, and that the bar was in the same room as the dance floor!"
With the venue booked, the next thing they wanted to sort was the food as this was one of the most important things for them. They wanted to make sure there was a lot of delicious food being served throughout their wedding day.
They picked out a range of canapes for the drink's reception and a choice of Beef or Fish and Chips for the main course of the Wedding Breakfast. Ali and Ian didn't want anyone going hungry so made sure to order plenty of food for their guests!
With no time to spare, Ali started looking for the perfect dress. At first she had no idea what kind of dress she wanted, and then suddenly she had a very fixed idea…
But, couldn't find her vision of the perfect dress anywhere!
After visiting about 10 different shops, Ali eventually found the one. An elegant white dress with a simple neckline, fitted waistline and flowing skirt, Ali picked a stunning ballgown to wear.
That didn't stop her making a few last-minute alterations though!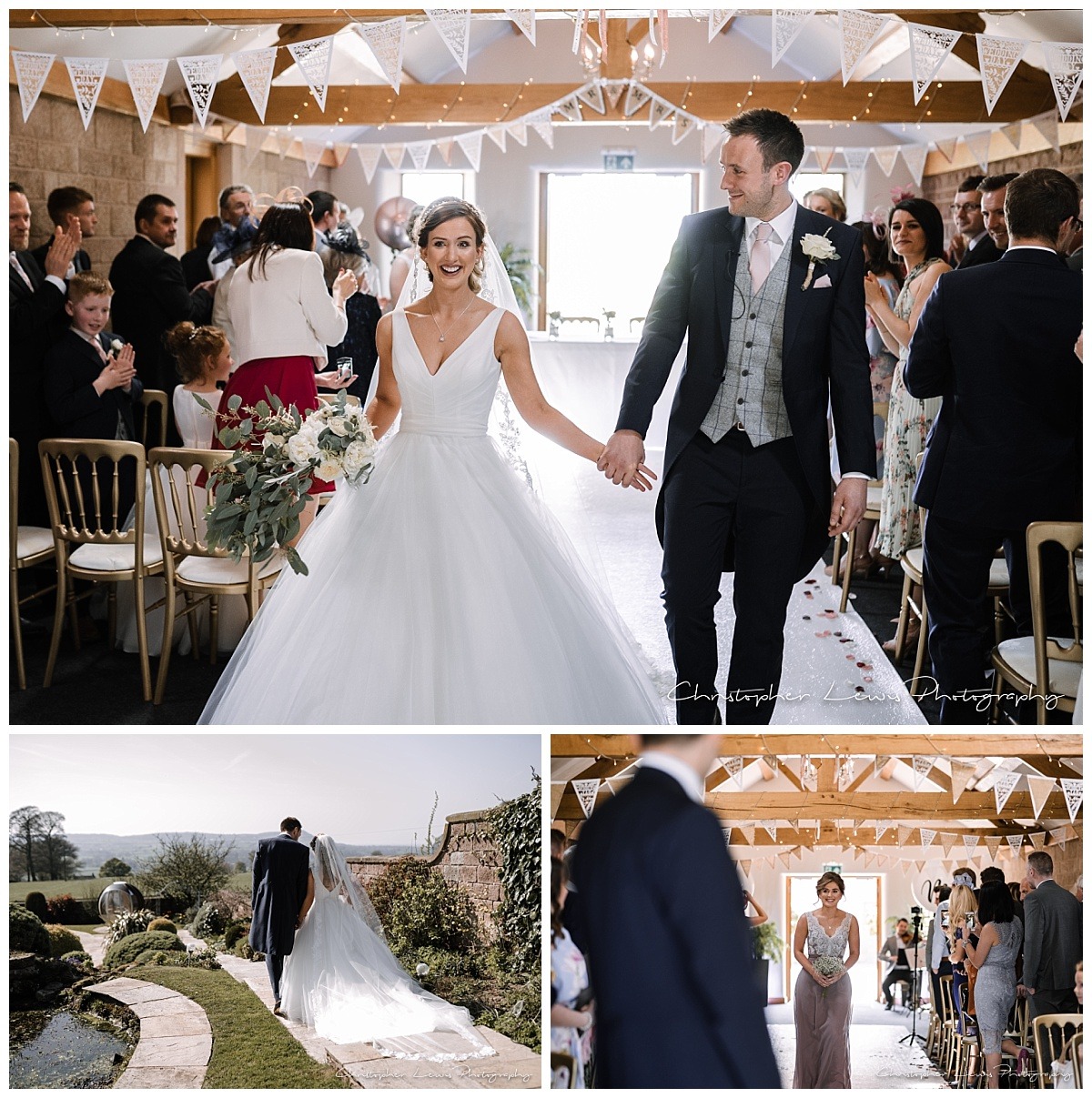 Ali also had to choose what dresses her bridesmaids would wear, and more importantly what colour they would be! She opted for stunning floor-length Emma Bridals dresses in the shade 'Rosy Brown' with an intricate lace detailing on the top.
Choosing a suit for Ian to wear was considerably easier… it took him the whole of 30 minutes! He chose his suit from the first shop they went in, deciding on navy blue tails with a patterned waistcoat. And despite saying he wouldn't wear pink; he added a pink tie to complete the outfit!
The last thing to organise was the styling for the venue as it wasn't a big deal for Ali:
"I thought the venue was beautiful as it was, and I didn't prioritise very much budget for all the extras!"
So, they decided to make some DIY decorations. They created a welcome sign from reclaimed wood with eucalyptus leaves and a table plan with charming little drawings.
To dress the Oak Barn for their ceremony, they hired a white aisle carpet from Heaton House Farm and added some simple rustic bunting that looked really effective against the oak beams and fairy lights.
In Steele's Barn, they dressed the tables with hessian runners, log risers and different gin bottles with lights in alongside jars with candles and flowers. The whole look really complimented the feel of the venue.
And not forgetting those balloons! Ali and Ian picked some white orb balloons with 'Mr' and 'Mrs' on them from The Party Company in Worsley. They looked absolutely amazing!
Nine months had flown by and it was soon time for their big day…
On Friday 19th April 2019, Ali made her way to Heaton House Farm with all her bridesmaids and her mum to spend the morning getting ready in the Pamper Room she had fallen in love with.
The moment was finally here, and Ali was ready to walk up the aisle towards her husband-to-be.
With the Didsbury String Quartet playing 'Canon in D' by Pachelbel, Ali walked up the aisle holding hands with her mum.
Their ceremony was absolutely beautiful with lots of lovely readings and important songs played throughout. The quartet played 'One Day' by Elbow, 'I'm a Believer' by The Monkees and 'Here Comes The Sun' by The Beatles.
They also had their friends do two beautiful readings with one from Captain Correlli's Mandolin and the other from The Notebook. It was absolutely perfect!
The newly married couple walked down the aisle and into the courtyard to a huge applause as confetti was thrown all around them. The new Mr and Mrs Pickup looked overjoyed!
Ali had been worried about the April showers making an appearance, but they were in luck! It was a beautiful day with blue skies, so they were able to have their drink's reception outside.
Everyone enjoyed drinking Peach Bellini's as the sun shone down giving Ali and Ian the chance to talk to all their guests.
Soon it was time to make their way into Steele's Barn to indulge in a delicious three-course meal whilst being entertained by James the Singer.
As they were enjoying their meals, James made sure that he filled the room with the sound of his incredible voice. After the main meal, it was time, of course, for a huge conga around the barn! And once desserts had been eaten, he made sure everyone was on their feet singing along to 'Sweet Caroline'!
This definitely made the Wedding Breakfast one of Ali and Ian's favourite parts of the day!
With everyone in high spirits, it was time for the speeches. Ali's mum did a perfect speech – short and sweet – and even included a quote from a recent film which Ali loved. Ian and his Best Man did their speeches after which had everyone in hysterics!
Afterwards, Mr and Mrs Pickup cut their incredible cake before making their way outside to capture some beautiful photographs as the sun went down whilst the guests head to the bar for the evening reception.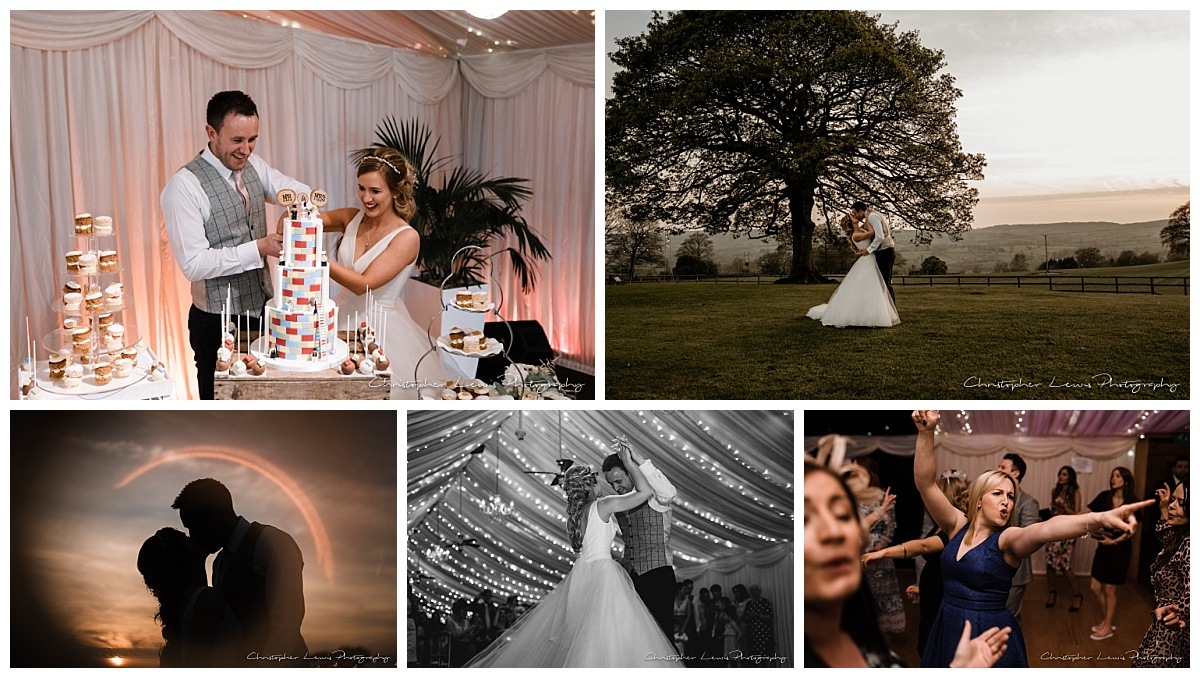 Taking to the dancefloor, Ali and Ian had their first dance underneath the twinkly lights before all their guests joined them to party all night long!
"Having the drinks reception outside was a massive added bonus for us and I will always be really grateful for that. After that, the wedding breakfast, it was way more fun than I would ever have expected thanks to James and our amazing friends and family for just generally being up for it!"
"Try to remember to pause, breathe and take a couple of moments to yourselves on the day because it really does fly by so quickly, and you are getting pulled in all different directions. Write cue cards beforehand, but don't rehearse your speech too much as it's better if it sounds more natural."
Advice for future couples
"Don't sweat the small stuff on the run up to the wedding, on the day, you really won't care!"
Suppliers Who Made Their Day