Your wedding is a once in a lifetime event. It's the one day you've probably been dreaming of since you can remember, so we understand that you'll want to make it as special as possible.
Whether you're planning an intimate wedding for you and your closest friends and family or are looking to throw an extravaganza with all the bells and whistles, it's essential that you properly plan the cost of your big day.
There's a lot to consider when planning a wedding, from the venue and the caterers to the accommodation and the outfits. Your plan should cover everything! It's also crucial that you consider all of the payment options available and choose the right way for you and your big day.
Plan well and plan early
If you've been planning your wedding for some time, then you may already know exactly what you want and what it's going to cost. If not, then now is the perfect time to start writing ideas down and looking at average costs.
What your plan looks like and the level of detail it contains is going to depend on what you want. Most couples will need to look at outfit costs and prices of wedding bands, however whilst some couples plan to have an extravagant wedding with multiple food options and a live band, others might opt for an intimate event using an acoustic guitarist and relaxed catering.
So ask yourself some of these key questions:
How many guests do I want?
What time of year do I want to get married?
Do I want a theme to my wedding and how important is this?
Do I need transport?
Do I want one location or multiple (ceremony, wedding breakfast, party)?
Do I need a venue with accommodation?
What type of catering do I want?
Do I want entertainment?
Do I need a photographer?
Do I need table decorations?
What favours do I want to give guests?
How will I send my invitations?
Answering all of these questions should give you a rough idea of everything that comes with cost on your big day. When you start researching what you want using this list, you'll also be able to establish a realistic budget.
We want to see this dream wedding of yours come to life so we've put together some helpful tips for paying for your wedding.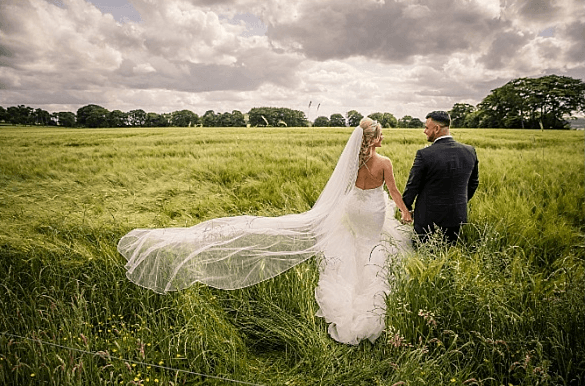 Deposits
Deposits are an essential part of wedding planning and there is no escaping them.
By booking out any type of vendor or venue you are asking them to hold the date and turn away any other offers for the same time. So whenever you hire a photographer, a caterer, an entertainer or a venue, expect and be willing to pay a deposit.
This should be no more than 50% of the full fee and may be less depending on the product, service or offer. However, make sure you look into and discuss the terms of this deposit.
Instalments
As many weddings are planned months and often years in advance, many supplies and venues can request multiple payment instalments to ensure you are still interested.
The deposit is typically considered the first instalment and should be made the day you book the service. Most suppliers or vendors will ask for anything between 25% – 50% for your first instalment and then the remainder will be due up to a couple of months before your wedding day.
It's unlikely you'll be asked to pay anything on the day – after all, it's that one special day all about you and your loved one.
SMH Photography
Payment Plans
One of the most practical ways to pay for your wedding is using a payment plan. This is where the total fee is divided into a schedule which runs from the month you book to the wedding day, or even after.
Unlike instalments, which are only three payments in total, payment plans allow you to split the cost over several months.
For many businesses this might not result in an additional cost, but keep in mind that every business is different. Read and discuss the terms and agreement with your partner and the business to ensure you're all on the same page. Make sure you won't be charged extra a paying a little amount more often, as opposed to just two or three large invoices.
At Heaton House Farm, we offer a monthly payment plan for couples who'd like to spread the cost of their venue hire over a longer period. We calculate how many months are left until your big day and agree a regular monthly payment to build up your contributions to the final cost.
It's just one way to help you afford your dream wedding.
Christopher terry
Insurance
Weddings can be a lot of money, which is why it is so important that you are backed up and supported should something go wrong.
Get your wedding insurance in place as soon as possible to minimise the risk to you and the money you have put into the wedding. This includes deposits or payments you have made to the venue, your vendors and suppliers and your attire.
Remember to check the small print with what you're covered for before you start putting down deposits or paying for anything wedding related!
Paying for your dream wedding
There you have it, our top tips for paying for your wedding. Whatever you decide it's important you know your limits and have a true understanding of what you can and can't afford.
Beautiful, magical weddings can be created on all levels of budget if you do you research and plan properly.