On Christmas Day 2017, Gary and Michelle alighted the cogwheel railway train to make their way to the top of Mount Rigi, Switzerland.
Michelle started to worry about Gary as he seemed to be constantly clutching at his chest, however, once at the top she realised her worries were misplaced!
He had in fact been trying to subtly take the ring box out! Once at the top, Gary ensured Michelle had the biggest surprise of her life and a Christmas to remember forever as he popped the question…
Of course, Michelle said yes! And then, it was soon time to start planning.
They first began looking online at different wedding venues, and every time they did Heaton House Farm kept popping up.
Noticing that there was an open day one weekend, Michelle suggested to Gary that they take a trip to have a look around…
"Mick showed us around and we both couldn't believe how much we loved it. We viewed one more venue before deciding nothing was going to top Heaton House Farm"
With Heaton House Farm booked and a wedding date secured, Michelle and Gary started the rest of the planning to create their perfect day.
After coming to the open day, Michelle had got lots of inspiration for how she would like to decorate the venue. She wanted to keep the rustic style of the farm so started looking online for ideas that could help bring her vision to life.
As Gary's mum is a florist she helped to create some stunning floral arrangements full of blush coloured roses, gyp and lots of greenery that lined the aisle and adorned the ceremony table.
The tables in Steele's Barn were decorated with white tablecloths, white napkins rolled with twine and stunning floral centrepieces placed in large martini glasses on top of table mirrors.
With the décor planned, Michelle chose to start looking for the perfect dress. She picked out a few shops that she would like to try and then booked an evening appointment to go to Dream Dress Shop with her mum.
Spending a wonderful evening together trying on lots of different styles, Michelle fell in love with a champagne Ronald Joyce dress in a fishtail style covered in embroidered lace with a sheer back.
Matching the dress with a beautiful veil with sparkles around the trim and a pair of sparkly Jimmy Choo heels, Michelle picked a style that suited her perfectly!
As she had asked Claire and Joanne to be her bridesmaids, Michelle also had to choose their dresses. She opted for elegant navy blue, floor-length dresses with intricate detailing and gorgeous sleeve design.
Meanwhile, Gary was busy designing his custom-made suit with Whitfield and Ward including some special extra details. He had their wedding date underneath his collar and their initials included in the inner lining.
A navy blue suit with a grey patterned waistcoat and polka dot tie matched perfectly to the theme and the bridesmaids' dresses.
With everything organised, there was nothing else left for Michelle and Gary to do apart from wait for their special day to arrive.
On Saturday 15th September 2018, Michelle arrived at Heaton House Farm to get ready in the Pamper Room with her bridesmaids.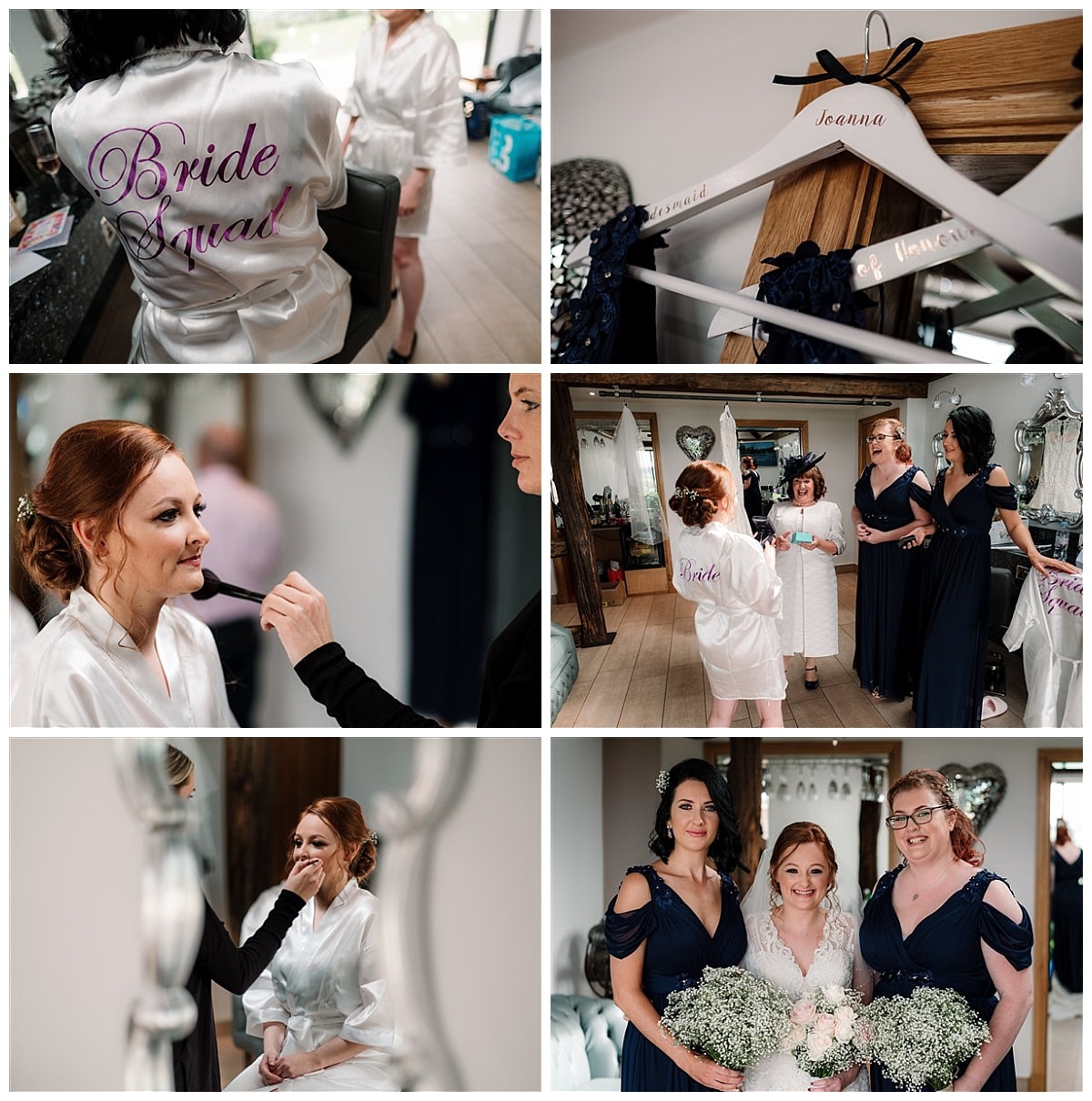 They had a fabulous morning sharing gifts and lots of laughter as they all got excited for the celebrations that were to come.
It was a particularly special moment as Michelle's dad saw her in her dress ready to walk down the aisle.
As the weather was perfect, they were able to have their ceremony under the Oak Pagoda so the bridesmaids made their way outside and down the aisle to a beautiful version of Canon by Pachelbel performed by the Didsbury String Quartet.
Being able to have their ceremony outside really made Michelle and Gary's day so special.
"Everyone always seems to think if you want an outdoor wedding you have to go abroad, so I was extremely pleased that the sun was shining down when we were saying 'I do'"
With vows exchanged, it was time for the new Mr and Mrs Stubbs to walk down the aisle as a married couple to a stunning rendition of Marry You by Bruno Mars.
A wonderful selection of different cocktails and beers were available for the guests to enjoy whilst they played the giant garden games on the lawn.
During the afternoon the photographer took Michelle and Gary off to enjoy a few moments together and capture some stunning shots.
Soon it was time for the wedding breakfast and all the guests took their seats to welcome Mr and Mrs Stubbs into the beautifully decorated Steele's Barn.
Everyone sat down for a delicious three-course meal: baked camembert for starter, BBQ meat and fish for the main and chocolate brownie flowerpot pudding.
After the meal had finished, everyone settled down to listen to the speeches.
The speeches were absolutely perfect, they were all wonderfully entertaining but also extremely heartfelt too.
The two best men, David and James, put on a great speech but they were both worried it wouldn't go down well so bought everyone a shot just in case!
Speeches over, it was time to party!
Michelle and Gary took to the floor to have their first dance to Say You Won't Let Go by James Arthur. Michelle loved the song as it always gave her goosebumps and as soon as they listened to the lyrics together, they just knew this would be their first dance song!
The DJ also played a special song for Michelle's grandad to dance to, The Power of Love by Jennifer Rush. It was such a touching moment and he was smiling from ear to ear as he danced with Michelle on her special day.
A magic mirror photobooth was bought in for the evening reception alongside a sweet cart for the guests to choose a few sweet treats.
They also chose to have some retro snacks for their evening food, everyone enjoyed burgers, hotdogs and fishfinger butties!
The DJ had everyone up and dancing the whole time making sure Michelle and Gary had an unforgettable night!
Michelle's Memorable Moment:
"The whole day was amazing, but for me, I absolutely loved the photos that were just me and Gary… it meant we got 5 minutes away from everything. We could talk to each other and Jonny Draper is such a great photographer, you feel like you've known him for years he puts you at such ease!"
What did Gary think?
As he got stuck in some traffic on the way leaving him a little stressed, Gary's advice is:
"Avoid traffic and leave earlier!"
Advice for future couples
"The day goes by so quickly it's quite hard to take it all in, but take a few minutes, step back and just watch everyone from a far and think 'this is my special day and they're all enjoying this no matter what' – it's so easy to get swept up into wedding panic and hoping everyone is happy but the important thing is to just enjoy it as a couple!"
Suppliers who made their day: