Last November our future Brides and Grooms attended Heaton House Farm's final Experience Evening of 2015 for a night of entertainment, inspiration and introductions.
On Tuesday 10th November we welcomed over 90 of our Brides and Grooms back to the venue with their families and friends for a relaxing evening being entertained, gathering ideas for their own big day and meeting suppliers and staff.
Our Client Experience Evenings are held two to three times a year and all of our booked clients are invited to come and view the venue again which will be set-up with themed designs and some of our suppliers. Each Experience Evening we invite different suppliers to the venue giving our couples more opportunity to see different ideas and meet new suppliers each time they attend.
Couples have often never seen the venue in the evening, so when our guests were greeted by two roaring gas flambeaux underneath the sunset provided by Lightech, it came as a big surprise and a wonderful welcome to the event.
Upon entrance to the venue guests were greeted by members of our team who were available to answer any questions which our couples may have had. Also located in the Oak Beamed Entrance Barn was LS Photobooths which opened its curtain for attendees to take photographs in fancy dress and take away with them as a memoir of the evening. (Wedding planning can be fun!) Also, in this barn guests were lit up by the light up letters spelling out 'Mr and Mrs', creating another fantastic photo opportunity for our guests to enjoy. These were provided by 'The Word is Love'.
Our Preparation Room was in full swing with brides to be enjoying a makeover by Dollface Make-Up whilst browsing the lovely range of bridal hair accessories by Glorious Tiaras. In the room next door, 7th Heaven Bridal displayed a variety of bridal gowns and bridesmaids dresses. This tends to be the section of the night where the gentlemen take a few moments to sample the ales at the bar.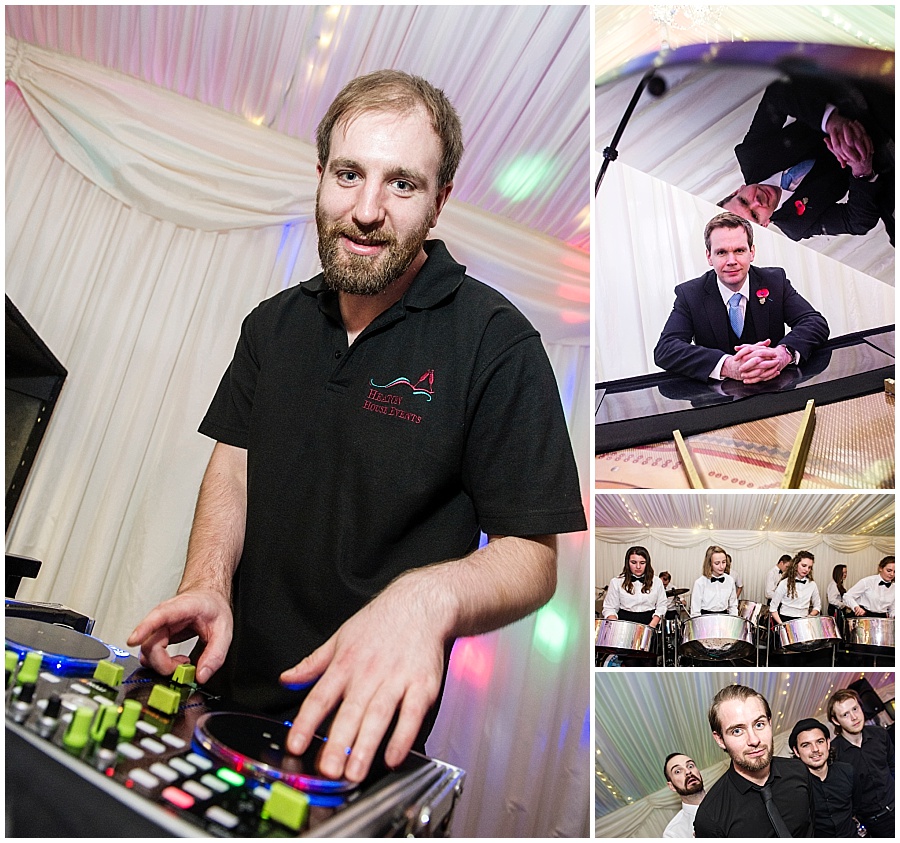 Leading through into the Wedding Barn, the sound of music filled our guests ears with a musical showcase featuring Steel Band – Pantonic All Stars, Party Band – Agent Smith, Pianist – Benjamin Clarke and one of our in-house DJs, Krissi B. Couples were welcomed to take a seat and grab a drink from the bar and sit back and enjoy the music.
We like to inspire our clients and our Experience Evening is the perfect opportunity for us to help spark some creativity. This event saw tables designed following themes such as; 'Winter Wonderland', 'Vintage Lace', 'Circus' and 'Rustic' with items from Whitehouse Event Crockery and Venue Perfection and flowers provided by one of our recommended florists, Possibilities.
Also set up in Steeles Barn was a table full of tasty wedding cake examples by Tickety Boo Cakes. Alongside this were two wine tasting stations for couples with upcoming weddings to finalise their wine choices for their special day. This was assisted by Scott, from our Wine Producer, Boutinot, who was on hand to help our couples choose the perfect wine to accompany their menu.
Catering is very important to all of our clients. This evening we were joined by two of our approved caterers; Vanilla in Allseasons and Barretts Event Caterers. They provided information and help for our Brides and Grooms and also offered delicious tasters.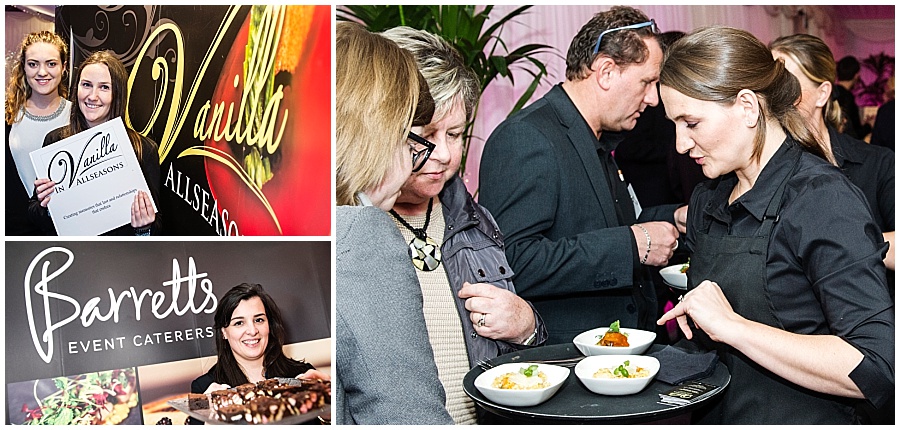 Located in The Old Stableyard Restaurant we had several displays set up by more of our recommended suppliers, some that clients may have never thought about having at their wedding. This evening included appearances from David Oakley the Magician, Birds of Prey featuring a visit from one of their owls, luxury rural retreat; The Pampervan, Whitfield and Ward with their variety of Groomsmen attire, Jon Thorne Photography, YSD Media and Stylists in Stationery who provided many different ideas for items such as invitations, table names and table plans etc.
The Experience Evening came to a close at 9pm with our couples leaving full of ideas, items on the planning checklist done and full of excitement for their wedding day!
Thanks to Jon Thorne Wedding Photographer for capturing the night!