On Saturday 9th March, Heaton House Farm was completely transformed into a mesmerising underwater experience for over 300 guests.
Every year, 'Biddulph Moor Friends of Cancer Research UK' raise thousands of pounds hosting themed evenings where guests are treated to a delicious meal and an evening packed with exciting entertainment.
Organiser, Janet Pickford, revealed that 'Under the Sea' would be the theme for her 13th event and we were all extremely excited to see how the evening would turn out following the huge successes of previous years.
The guests entered our Oak Barn and were immediately submerged into the underwater theme as they were greeted with a magnificent boardwalk to make their way across to 'The Lobster Pot' for a drink!
With a glass of prosecco, everyone made their way through to the bar. Everywhere you looked there was another beautifully crafted decoration that really made the guests feel as though they were in the depths of the ocean. Jellyfish suspended from the ceiling, Jolly Rogers hung across the bar and a giant clam shell complete with a mermaid sat upon a barrel; Janet had created an enchanting underwater experience for all the guests to marvel at.
The shipwreck scene at the end of the barn looked absolutely incredible under twinkling lights and the array of jellyfish, sharks and seahorses suspended from the ceiling. This stunning set-up certainly had the wow factor and guests crowded around to have their photographs taken against this magical backdrop.
To top it off, circling around amongst the guests as they enjoyed their drinks were a mermaid and an aqua man on stilts!
Some of the guests fully embraced the 'Under the Sea' theme as we had a real-life Ariel and Jack Sparrow turn up! They looked incredible and lots of the other guests wanted their photographs taken with the pair.
We even had our very own King Neptune make an appearance (you might recognise him as Mick – the owner!) as he rode along on his seahorse to entertain the guests.
Everyone was called into Steele's Barn to take their seats, and there was no doubt that this barn would be decorated just as exquisitely as the rest of the venue.
Every single table was styled in a different yet remarkable way, some tables became the coral reef and others a pirate's treasure trove or the home to various sea creatures.
John Pickford introduced everyone to the evening and Caroline Mellor then presented a speech on behalf of Cancer Research UK. With the speeches finished, it was time for everyone to tuck into a delicious 'Under the Sea' inspired 4-course meal served by Vanilla in Allseasons.
An aerial performer provided an extraordinary performance using a fishing net which astonished the guests as he completed his fascinating routine suspended from the ceiling.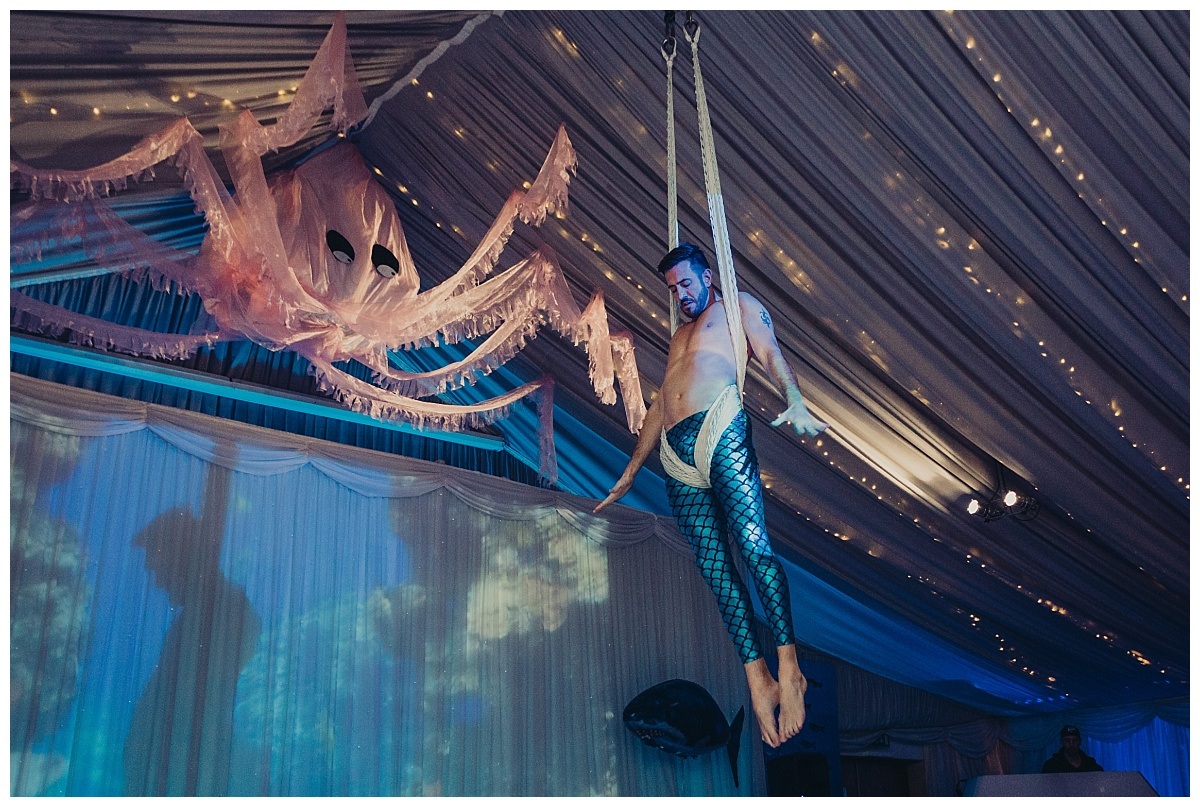 The night was in full swing as local auctioneer Robert Watkins took to the stand and began the auction of 30 fantastic prizes which included luxury hampers, artwork, signed football shirts and tickets to various events.
One of the star prizes was a signed photograph of the famous save by Gordon Banks which sold for £800!
With lots of money made for Cancer Research UK, DJ Krissi B got everyone up and out of their seats to dance the night away!
What an incredible evening – we would like to say a special thank you to Janet Pickford who has successfully pulled off yet another amazing event for charity.
We are already looking forward to what next year's evening will involve! No matter what, it's sure to be a night to remember!
Stilt Walkers & Aerial Performer: Stage Invaders
Dancers: Charm Entertainment
Venue Dresser: Janet Pickford and her volunteers!