Today the lovely recommended supplier that we are going to feature is wedding cake extraordinaire 'For Goodness Cake'.
Now we can all personally vouch for the delicious-ness of their cakes, as generously Sue always bakes us a batch of cupcakes whenever she drops off one of her elegant designs at the venue. We all look forward to her visits!
Cakes are a tricky business, they must both look and taste incredible and 'For Goodness Cake' have mastered this challenging art. They provide a bespoke design service, with customer involvement from the start in the flavour and theme of the cake. There is also an array of fabulous styles of cake which Sue does amazingly!
So let's hear from 'For Goodness Cake'….
Tell Us About Your Company
I'm Sue from For Goodness Cake and I make bespoke wedding and occasion cakes. I opened my business in 2011 and have worked as a recommended supplier with Heaton House Farm since 2014.
What is your company motto and/or mission statement?
Individually designed cakes, using quality ingredients, that taste as good as they look!
How did you get into your profession?
When my son was little and at infant school, I used to run the cake stall at all the school events, – I always loved to bake. Another mum was an event planner who organised regular wedding fayres, and said that she could really do with someone whose cakes actually tasted as good as they looked! This lady encouraged me to set up the business as a sideline whilst I worked full time in my original profession ( I was a pharmaceutical research chemist). 18 months later I was struggling to find enough hours in the day to keep working full-time and run my cake business. It was then announced that my department was closing and moving down South and I was offered redundancy. I took the redundancy in 2012, giving myself 2 years to see if I could make my business work…. and I've never looked back. I love being my own boss, love working with some fantastic venues and love helping to make a couples wedding day as special as it can be.
Professionally, what is your proudest accomplishment?
I don't have one single proud accomplishment. Every couple is special and each has different ideas on what they would like their wedding cake to look like. I try my best to make sure that each of them gets their perfect wedding cake.
This is a genuine review of a wedding cake that I made for a couple at Heaton House Farm last year. I love this review, and it sums up everything that I try to do. If I can make a couple feel like this… then I've done my job well.
"What we booked: a lady to bake a wedding cake What we got: an amazing kind-hearted person who really cares for each of her couples. Sue was prompt with her replies and made choosing our kind of cake so easy. She sent samples in the post which was ideal for us as we didn't have to travel and arrange child care. She clearly knows what she is doing and has a diverse range of styles to suit each couple down to the ground. Whilst planning our wedding we came across a few entitled suppliers… mainly at wedding fairs…..who deem themselves to be worthy of your money and time. Sue is our kinda person, she doesn't do the hard sell and she doesn't need to because her cakes are divine. My husband was reluctant to share out our wedding cake because it tasted so good. Thank you so much for helping us have the cake of our (my!) dreams x"
What is the best thing about working with Heaton House Events?
The team at Heaton House Farm are amazing to work with. They are just as supportive of their suppliers as they are of their couples. You know that everything will run like clockwork and everyone knows what they are doing. It's a well-oiled machine and I love just being a small cog helping everything come together to give a couple the perfect wedding day.
Do you have a top tip for clients?
There is so much choice now that you can have everything that you can possibly think of at your wedding!
I'd write a list of the things that are important for you to have on your wedding day (every couple's priorities are different), and then a list of the extra things that would be "nice to have". Book the important things and then see what is left in the budget for the extras. It's easy to get carried away, and book lots of little extras and then not have enough for some of the more important items for your day.
Tell us something interesting about yourself…
I don't suppose there are many cake makers who used to work on a cure for diabetes during the week, and then made and sold cake at the weekend! I know it seems like a bit of a contradiction, but it looks after my pension haha!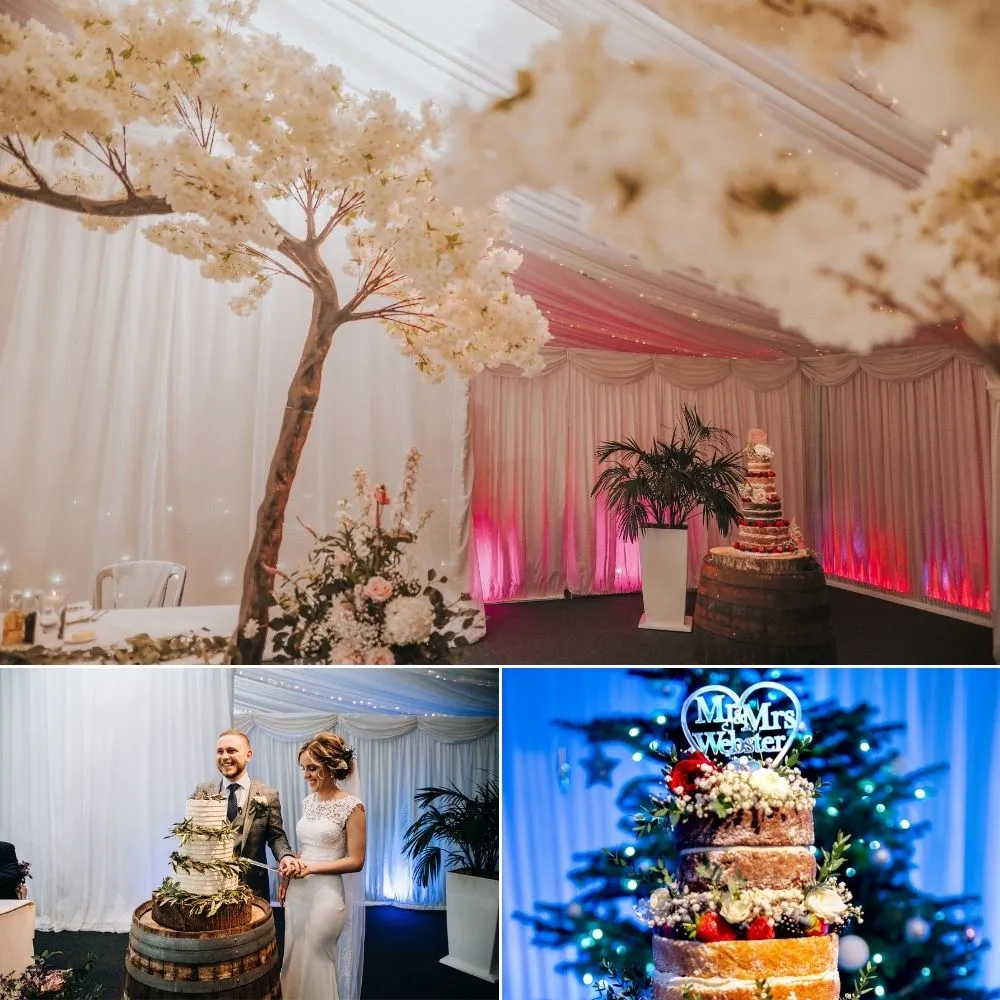 Thanks 'For Goodness Cake' for featuring. We love that Sue's career has gone full circle!
To learn more about the design and service you will receive at For Goodness Cakes, go to their website www.forgoodnesscake.net and follow them on Facebook too!