Looking for a way to smuggle an engagement ring for a proposal abroad? Alex had the right idea! On their holiday to Greece, he hid the ring box in his hand luggage and put a note around saying "Do not tell Girlfriend!" in case his bag got searched, what a good idea!
He then got down on one knee with it on a beach, it had just started to go dark and they'd gone on the search for turtles coming to lay eggs; they didn't get to see any but what they did get was engaged!
Then began the planning for their special day, being from 2 different parts of the country, they decided to get married up North, and the first thing they booked was Heaton House!
"We were looking for something rural and beautiful, but also, practical and convenient for our guests with everything in one place. We were completely blown away by how wonderful everything was!"
They went to see one other venue but decided nothing compared, and unanimously decided Heaton House Farm was the one.
Laura & Alex had met via their mutual love of fantasy literature and so they chose this as their theme, a personal touch to their special day and they knew exactly how they wanted things to look; geeky nods to their favourite books and films. So they used Pinterest to come up with extra ideas and then did a lot of the décor themselves, Alex is a graphic designer so that helped a lot! It's not what you know, it's who you know! Especially since Alex's Aunt Sarah runs a vintage prop and China hire company so this worked well for gathering vintage books and items; they loved the vintage post box which made a great feature!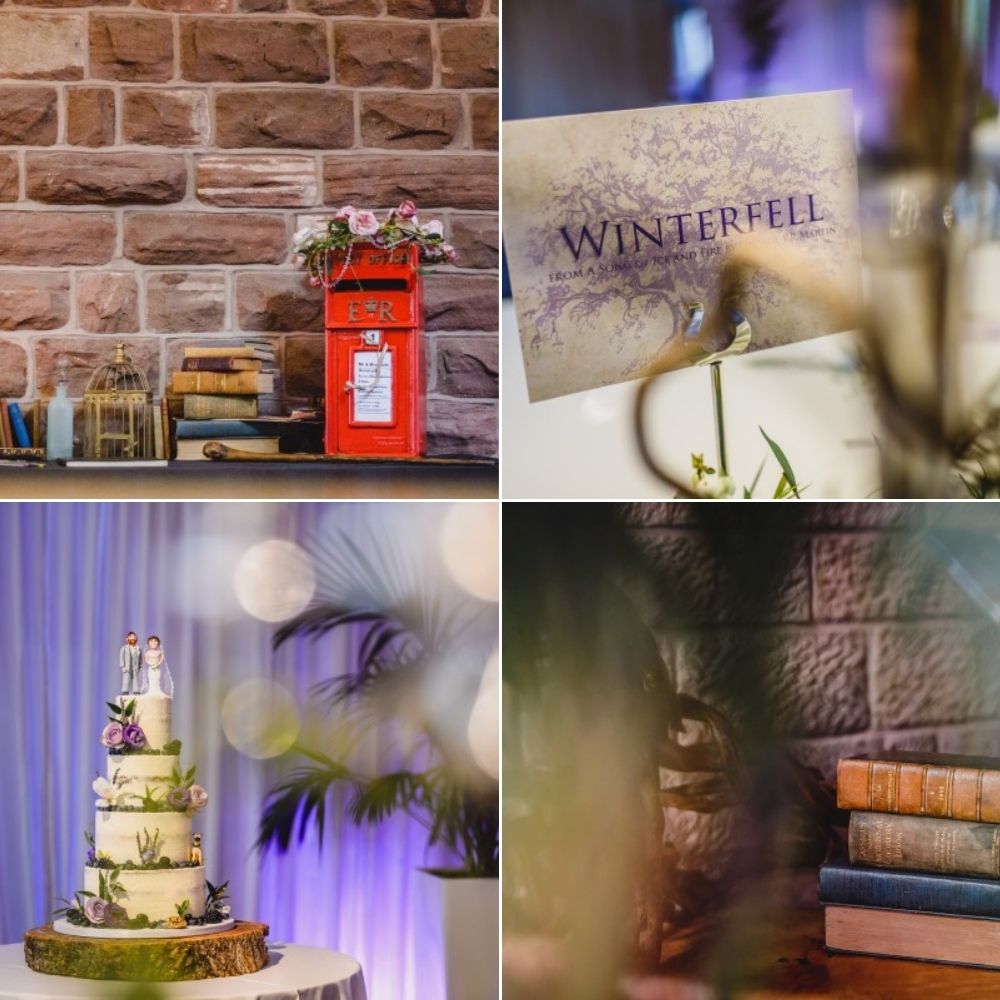 They chose to have their ceremony 'Under The Pleats' and Laura remembers just how handsome Alex looked waiting at the end of the aisle for her as she made her way down to an excerpt of the Rivendell music from 'The Lord of the Rings'
Laura looked beautiful in her ivory fit and flare dress, she originally thought she would choose something more floaty and A Like but she just fell in love. Her three bridesmaids wore lavender full-length dresses, one even had to travel to Paris to one of the girls!
Alex chose a bespoke suit from Moss Bros where you can design all the elements of the suit which he really enjoyed doing! He chose a brilliant grey plaid fabric that had the most incredible lining – with bees on it!
The wedding breakfast was delicious and Laura especially loved the speeches, Alex continues with his surprises as he showed a video of The Puppini Sisters singing to them! Laura's been a huge fan since she was 16 so it really was so special for her – and bought her to tears ready for her speech.
This was actually their favourite part of the day, "We could see everyone there enjoying themselves and made our way around the room in between courses to say hello"
Now it was time to party!
With the tunes provided by AKA Discos, bacon and sausage baps for enjoy to dance and delicious pieces of cake, it was amazing! But they still think the main entertainment was their friends and the hilarious dance moves that were out on show!
Their first dance was lovely, they'd chosen 'The Way You Look Tonight' by Frank Sinatra as they both loved the song and it was the only one they could agree on!
ADVICE FROM THE B&G
"Focus on the right things – you'll have far more memories of the people there than the colour of the napkins!"
Suppliers For Their Day