It's one of – if not THE – most romantic days of the year. And it's also one of most popular days for engagements, after Christmas and New Year.
So if you just got engaged… CONGRATULATIONS! You're getting married! It might not be soon – in fact it probably won't be soon given that the average couple waits between 18 and 24 months before tying the knot.
But that doesn't mean you can't start planning. Enjoy this time. It can all get a bit hectic, but planning is part of the whole wedding experience.
So where do you start now that you've said YES?
Chelsea Shoesmith (Top Left), Christopher Lewis (Top Right), Draw Findlay (Bottom Left), Lydia Anne Photography (Bottom Right)
You've probably already done this. But go on, do it again! Let you mouth drop in awe, run around the house shouting at the top of your lungs, or silently jump for joy in the bathroom. Whatever floats your boat.
This is the start of an incredible journey, so you can get as excited as you want.
Again, this is one of the first things you'll have done as soon as you got over the shock of the proposal (or the relief your partner had finally asked!)
But there's no harm in admiring it again. Walk around the house and admire it in different lights. Pop outside and see what it looks like in natural light (or moonlight!) and just take it in from every angle.
Your partner will appreciate you admiring it. Knowing you love it will be a big weight off their shoulders.
You might need to adjust the size before if fits properly, but before you can get to the jewellers…
Chelsea Shoesmith (Bottom Left), Lydia Ann Photography (Bottom Right), Drew Findlay (Top)
3. Tell everyone – or don't
After the proposal, telling your friends and family is probably top of your list, but how do you go about this? Well, it's all down to personal preference.
You may want to wait to show people in person, especially close family. Or you might have no patience whatsoever and be on the phone to mum, dad and your best mate minutes after you said yes. The choice is yours.
You might want to wait before posting on social media until you've told all your close friends and family though – and perhaps thought about the answer to questions everyone will ask:
When are you getting married? And what kind of wedding do you want?
4. Start thinking about your wedding
And that's why you'll need to start thinking about what your wedding might look like. It'll be hard not to talk about initially, so use the time wisely to chat with your partner about what you'd both like.
a. Guest numbers – we're not talking about finalising your table plan, but it's important to get a rough idea of guest numbers early on. You'll need this to find the venues that are most suitable and start figuring out costs. Are you going to keep things small and just invite immediate family? Or would you like to have all your friends, neighbours and colleagues there?
b. Theme – this is probably something you've thought about before, and again, you don't need to get into the nitty gritty details but having a rough idea about the type of wedding you want – rustic or ultra-modern, fairytale or minimalist – will help you narrow down possible venues.
c. Location – and because there are thousands of wedding venues in the UK to choose from, you'll want any way you can to narrow them down. Thinking about the area you'd like to get married – keeping it local or willing to travel across the UK – will be a good start.
Bancroft Photography (Bottom), Matthew Rycraft Photography (Top Right), James Lacey Photography (Top Left)
5. Explore some wedding venues online
Whilst you're waiting for the jewellers to open or the clock to reach an acceptable time when you can knock on your parents' door, you might want to start looking at potential wedding venues online.
Valentine's day is a popular time to get engaged, which means lots of other brides will soon be eyeing up their dream venue.
Get one step ahead by browsing websites to identify the places you definitely want to visit. Every venue should have a decent website nowadays, and you should be able to see lots of photos of weddings.
Our website, for example, has loads of information and images about our venue – you can basically take a virtual tour! And we even have a dedicated section showing off some of the real weddings we've hosted recently.
6. Put some open days in your calendar (or arrange a visit)
When you're looking around online at different venues, it's a great idea to start taking note of their open days. These are dates when you can explore the venue without needing to make an appointment, and most places will likely have decorated their rooms to give you a fuller idea of what your wedding could be like.
It will also give you the chance to get ideas from other couples who'll be walking around and asking questions too.
We hold regular open days every month, and you'll find the nearest dates right here. Of course if you can't make an open day, you can always arrange a visit on a specific date. Please note, during the National Lockdowns we are unable to host open days but we can send you across a virtual tour, request a brochure for more information and to view the tour.
7. Have a look at dresses
Whilst you're online, it wouldn't hurt to have quick look at wedding dresses (or wedding suits) would it? Of course not! This is your day, so why not start getting some inspiration.
You might not know what you'd like – or what you hate – until you see it. And it's a good way to begin thinking about prices, because you'll also need to:
Kyle Hassall (Bottom Right), Steven Rooney (Bottom Left), Jessica Holt (Top Right), The Light Painters (Top Left)
If you want your dream wedding, then the sooner you can start saving, the better. Even if you're lucky enough to have a family member offer to pay for the bulk of the wedding, there will still be unexpected costs that crop up. Things you'll just want to have to make that day extra special.
The earlier you begin saving, the easier you'll find planning your perfect day. Since you've just got engaged, now is the perfect time to set up a separate bank account, just for your wedding fund.
Put a little away each week or each month, and it'll soon start to build up. You'll be grateful for it when it comes to the big day – because even if you don't spend it on your wedding, you can use it for your honeymoon or home improvements!
9. Plan your venue visits
Finally, before you come down from the high of getting engaged on Valentine's Day, there's one last thing to do. Start planning your visits to wedding venues.
We keep coming back to venues, but that's because they're really important. Your wedding venue will dictate the rest of your day. Once you've found the perfect place to get married, everything else will start falling into place.
But the most popular places fill up very fast. At Heaton House Farm we're already taking bookings for weddings in two and three years' time.
Chelsea Shoesmith (Top Left), Emilie May (Bottom Left), Steven Rooney (Right)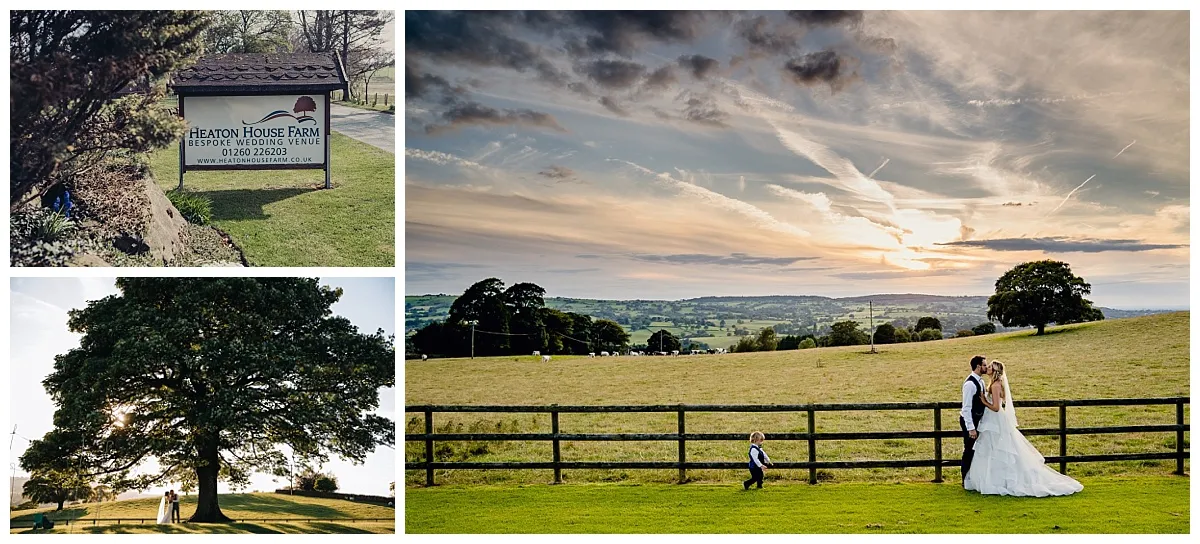 So if you want to secure your dream wedding venue ahead of all those other couples who just got engaged too, then start planning on getting out to your top three or four places in the next month.
Is Heaton House Farm one of your favourites? Join us at our next open day, or arrange a showaround today.