Family orientated Amy and Anthony were enjoying a family holiday in Mallorca, when the holiday turned out to be even more special than Amy thought as Anthony proposed on the villa balcony under the evening sky with all of Amy's family looking on.
Amy had always wanted a woodland fairy tale wedding and on returning to the UK, scoured Bride magazine, wedding blogs and the 'Bridebook' app for inspiration. The first things Amy and Anthony wanted to book were the photographer and the venue as they felt location and photos were the two most important factors for them.
Initially Amy visited Heaton House farm with her mum after looking online for highly recommended venues. They fell in love with the venue straight away and thankfully Anthony loved it just as much when Amy brought him to see the venue for himself.
Amy and Anthony really wanted a summer wedding so decided upon 12th July 2019 for their woodland fairy tale day. Amy and her Mum had absolutely loved the Pamper room when they visited the venue which is one of the highlights of Heaton House farm giving the bridal party a very special private room to relax in before the ceremony, enjoying getting ready together and talking about the day ahead.
Amy had 2 bridesmaids and a flower girl and had their dresses custom made in a simple Grecian design, champagne in colour but to compliment them, Amy chose a tight fitting , strapless dress fitted to just above the knee before layers of tulle fanned out to the floor, encrusted with crystals , the total opposite of what she thought she would choose.
Meanwhile, guests were arriving to enjoy Heaton House grounds on one of the warmest days in July and with the string quartet playing the guests took their seats in the Oak Barn adorned with white aisle carpet, blossom trees and white flowers with elements of greenery.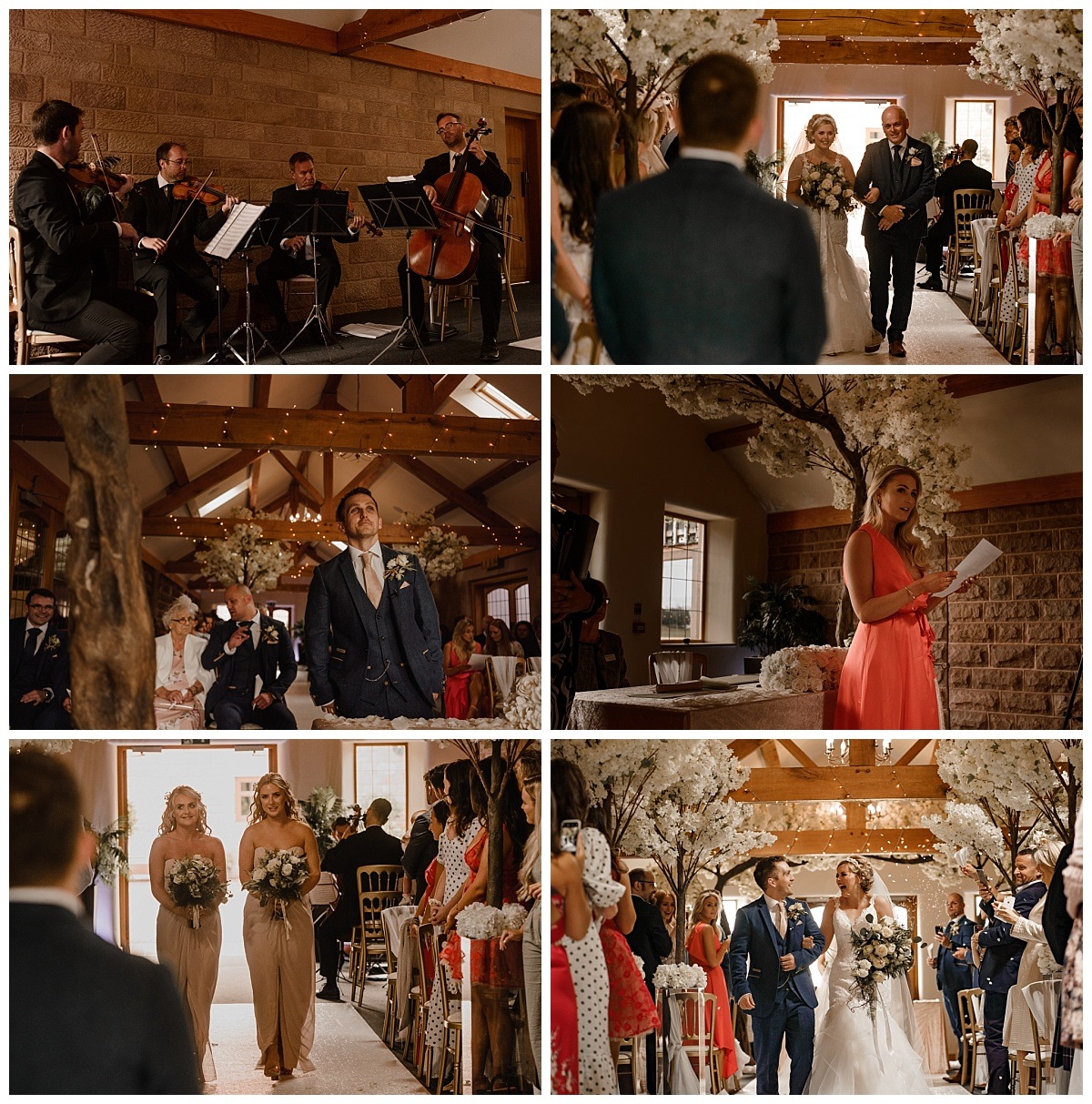 After a ceremony full of laughter and romance, the happy couple were cheered down the aisle as Mr & Mrs to 'Here comes the sun' by the Beetles and out into Heaton House Farm courtyard, in the sunshine.
Whilst the guests kept themselves amused with delicious reception drinks, a few outdoor games and a bit of dressing up, the Bride and Groom were whisked off to our private water gardens for some quiet time together and photographs.
Meanwhile, our team had been beavering away behind the scenes to perfect the dining barn which followed the gentle, woodland, white theme through beautifully with blossom trees for centrepieces, and luxury, specially cultivated white roses.
All the guests were surprised and thoroughly enjoyed Tom Finkill's incredibly fun version of a master of ceremonies, joining in and having to wave their napkins in time to 'Marry you' by Bruno Mars!!!! This was followed by a sumptuous dining extravaganza of goats cheese salad, a choice of pan-fried salmon or spit roast chicken and Eton mess.
The evening party started off with a special moment when Amy's brother Sam sung 'Your Song' by Elton John and followed by an evening of nonstop entertainment brilliantly hosted by DJ Tom Finkill.
When I first saw Anthony and walking down the aisle with my dad. It was a moment I will remember forever.
Advice for future Brides and Grooms
Amy: Enjoy every single moment! The day goes by so quickly, so just soak it all in!
Anthony: Relax- the grooms' speech is your opportunity to show appreciation for the amazing family and friends that are there to support you, this is your opportunity to show and tell everybody how much it all means to you. The day will go so fast so make sure you take a minute to soak it all in
You will probably not see your new bride for most of the night mingling with your guests, it's important to take 10 minutes to yourselves away from the day, just to enjoy a moment with your new wife, just the two of you.
Oh and remember it's your wife's big day, you're just there for moral support ha ha!
Suppliers Who Made Their Day